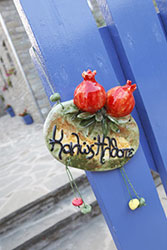 Megalo Papigo


This email address is being protected from spambots. You need JavaScript enabled to view it.

210 3635419

6973982310


Authorized by Hellenic Tourism Organization (E.O.T. 737/12.5.09)
Photographs by: Kamilo Nollas

The "Stonehouse" is located at the village Megalo Papigo.

The distance from Athens is 491 km,
321 km from Salonica and
60 km from Ioannina.
Driving on the national road Ioannina-Kozani turn on the provincial road Metsovo-Aristi (sign Vikos Gorge-Aristi-Papigo).

Consult the region map and get directions in order to reach Megalo Papigo
and the village's map in order to find the Papigo Stonehouse.